D Xpo

Van Genechten
---
When going through our collection of jokers for the Chinese Owl-man xpo, we came across this Belgian series of jokers too and thought that it would make a nice xpo too. But while researching the joker, more questions arose than we had anticipated. So we hope that our Belgian friends and fellow collectors will supply some remarks and clarifications when they visit this xpo. The text here below reflects our view, but we're open to add any further comments.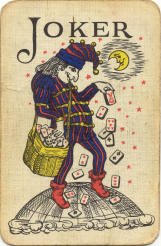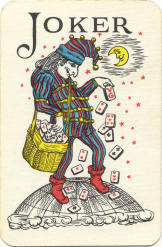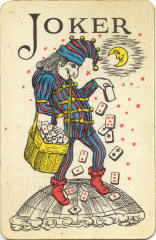 This is one of the jokers that were used by the Belgian manufacturer Van Genechten from Turnhout. Here above is their original design. The joker was used in standard decks. Based on the backdesigns we think that the first two jokers are the oldest ones. On the card that the joker holds in his hand the initials VG (Van Genechten) are visible. On the last joker this card is blank.
Although the redrawn design here below is depicted in a book, with the title "Turnhout?", that was written by E. Tilman and E. van Autenboer and published by the Playing Card Museum in Turnhout in 1983, where it was attributed to the Belgian manufacturer Leonard Biermans, it is obvious that the design and typefont are based on the original Van Genechten design. We therefor doubt that the attribution made in the book is correct.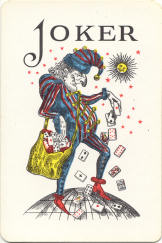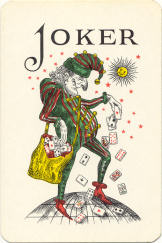 In the redrawn joker the original typefont and basic design were kept. Only the half crescent moon was replaced by a full and smiling sun.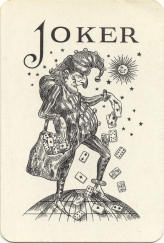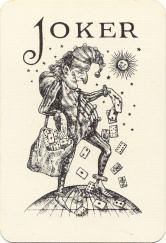 There is a minute difference between the 2 b/w versions here above. Can you see it? We'll give you a hint: count the stars!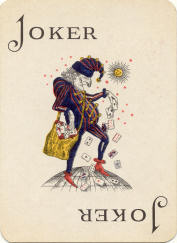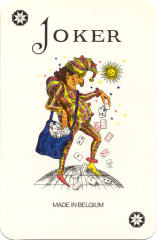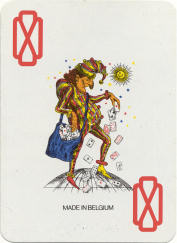 Of the jokers here above the last 2 were definitely made after the merger of the playing card divisions of the 3 largest paper manufacturers from Turnhout in 1970, which led to the founding of Carta Mundi.
---
JOKER EXPO'S

---
last update: 1/11/2007