OTHER STUFF
A group of miniature hand painted tin figures from Paris, ca 2000. The characters from "Alice in Wonderland" are gathered around a miniature deck, made by C.L. Wüst ca. 1900.

A miniature enameled tea or coffee kettle from China with hand painted suitcolours and an imitation of a French Joker on both sides. 1990's: ca. 8 cm high.

A glass & wood card holder for 2 decks. Probably made in Holland in the 1930's. The larger glass window in the middle has a silhouette of a joker painted on it, the 2 smaller windows have a diamond and a heart on them.

A tin box that advertises Dutch "Azen Tabak" (Aces Tobacco) and shows 4 aces. Probably a fantasy design that was made for this box only. We haven't seen a deck with matching aces yet. Holland, 1920's.

A set of sterling silver tea or coffee spoons with the 4 suitcolours on top.

Some wrapped sugar lumps with cards from the Tarot de Marseille of 1760.

A German beer stein with a tin lid and playing cards printed on the sides.

A heavy pewter holder for large size matchboxes from Germany with 3 cards and all 4 suitcolours

An oval tin can for sweets

France, 1950's.

A pack of razor blades from France

This hexagonal small porcelain jar
has one rippled side......

to light the wax matches
that it was meant to hold.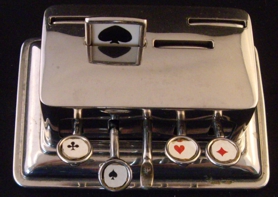 Two mechanical bridge trump markers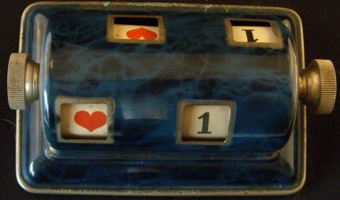 | | |
| --- | --- |
| | |
| Russian napkin rings | A pipe holder from the US. |
THERE'S MORE STUFF ON PAGE 2
---