PRINTED MATTER
Of course we all have at one time seen or received a postcard, with a playing card theme. There must be thousands around. But over the years we have found a lot more things than just postcards. Here's a selection. The objects have been scanned in different sizes, so some things may look smaller than they actually are. So I'll give all measures with any other info next to the picture.
POSTCARDS
We'll start with a nice set of postcards from Amsterdam, 1904 (13.8 x 8.8 cm). It's nice to see the town center without the jammed traffic, the masses of shoppers and.......all the neon advertising signs!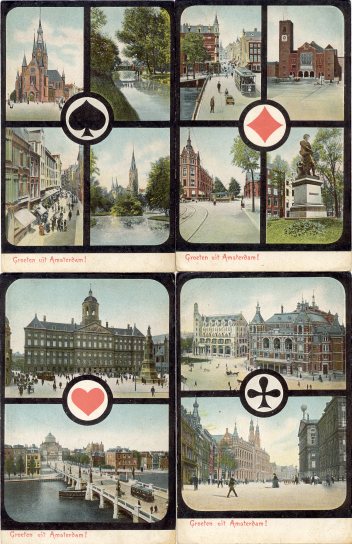 Maybe the people from St Petersburg have similar feelings, when they see this postcard from 1908 (13.7 x 8.8cm)

A postcard from France from 1906 (13.8 x 8.6cm) shows a trend from those days. In fortune telling each card (or combination of cards) has a certain meaning. The postcards show a certain combination of cards and the meaning of this is a message or a wish for the person who receives the postcard.

France, early 1900's (14 x 9.1cm)

A caricature portrait of Edward VII on a French postcard from ca. 1900 (13x8cm).

Although we have modern postcards too, I still would like to end this section with these 2 from the US.

They both come from the early 1900's and have a beautiful Art Deco design.
---
---