A VISIT TO THE OFFASON PLAYING CARDS FACTORY
-2-
Jan-Ove Offason started with a second hand one, but nowadays there's a state of the art printing machine. The Roland 700 can print sheets in 4 + 1 colours in one run. Blank sheets from a crate are fed to the Roland 700 and at the end of the line complete printed sheets are ready to be send to the next line, which will transform them into sealed packages. The Roland 700 is connected to an operating table, from which an employee can adjust the settings of the printing machine, after randomly checking a produced sheet on colour, density and detail.
Of course this is a most impressive process, but it all takes place inside the machine. On one end you could see the blank sheets and on the other end, although behind glass, the fully printed sheets. So it's not a visually very interesting process for the visitor.
After that each of these sheets needs to be transformed into a deck of 56 single cards, ready to be put in a box.

Fortunately that process is done in an open production line and it was fascinating to see how the sheets are cut up into strips first, then each strip into individual cards. In that same production line the individual cards are gathered into decks, the square corners are rounded off and in the last step the decks are sealed with cellophane and ready to be packed.
Here below a video of this process. If you don't have a MS Media Player installed yet, you will be asked to download it.
It's a safe program and you'll be able to see this fascinating process completely......... in motion!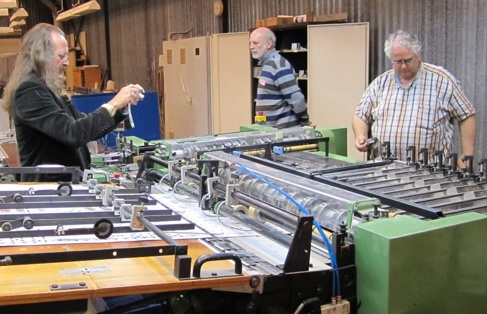 Maintenance of this production line only requires a handful of special tools and cans.

After our visit to the production hall, we were led through the office area to the cantina. There several tables had been set up, filled with different decks of Offason

playing cards that could be bought. And almost everyone left with a bag filled with decks, as they were sold by weight at a bargain price. After shopping we had ample time to study our bargains and discuss our visit over lunch. We forgot to check, but it's very likely that this marvelous lunch was presented by the Offason company too. Anyway, it was a delightful and informative visit and on behalf of the group we would like to thank Chris Offason and his company for this and their hospitality.

There was one puzzling deck in the drawer on the previous page and we forgot to ask Chris Offason about this too. Why is there a deck with the name of the Altenburger Spielkartenfabrik on the backs in one of the drawers in the Offason factory? It's presence there would suggest that it was made by Offason and this would mean that after many decades the tables have been turned. In the 20th century for a long time many of the decks for the Scandinavian market have been made by German manufacturers. Is there finally a Swedish made deck for the German market now too?